Yes, July... It took a long time for me to get the kit, and then to get the LO's done... they've been done for a week or 2, but I'm just now getting to post them for you!!
It was a fabulous kit... One half was using the Prima Mommy and Me line... the other was using some fun Cosmo Cricket goodies!!
So here they are... i struggled with the Cosmo Cricket... it's very much out of my comfort zone, but it is a good thing to stretch yourself once in a while right? LOL!!
I used the July sketch for this first LO... The sketch was designed by your truely! Very different style for me, but fun for a change! This is DS starting to roll over... Still can't believe he's that old!!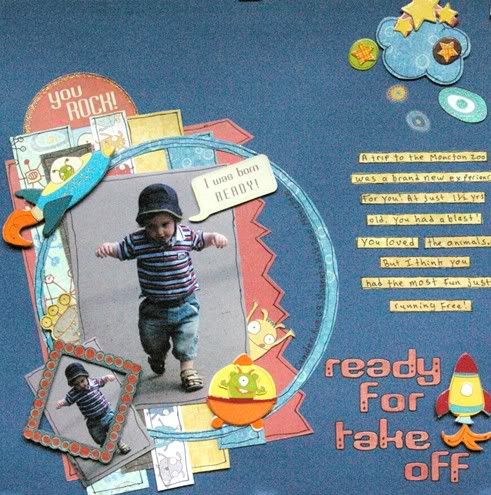 Another LO using the Cosmo Cricket... This pic of DS makes me laugh! Looks like he's trying to fly away! LOL!
LOVED LOVED LOVED working with the Prima Mommy and Me line!!! I love anything prima as you can tell!! I added the bling and the flower to the Sussies kit to complete this LO.
My silly DS... He loves getting his pic taken, and I love taking it!! :)
Well, look at that now, This kit was perfect... i did one LO for each of the 4 kiddos! LOL!
Stay tuned... i have my work for the Aug kit half done and should have it finished in the next couple of days!!!
Thanks for stopping by!!!