Monday, June 29, 2009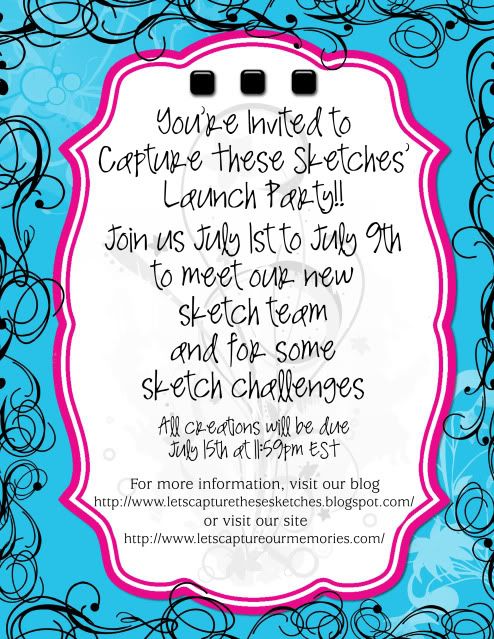 Come on over for TONS of fun!!
Capture These Sketches
Posted by

Tina McDonald
at 5:55 PM
0 Greatly Apprecated Comments!

Saturday, June 27, 2009
I know I'm WAY overdue for a REAL post... but i am afraid I won't be doing that right now... (sorry Michelle!)
But I DID want to share with you a RAK that is up for grabs on our brand new sketch blog!! Come on by and check it out!!! YOU could win our RAK!!!
Capture These Sketches
Today is also a sentimental day for me... it is my oldest DS's 4th birthday! He's so adorable and I just can't believe he's 4!!!
Love you little man!!
Posted by

Tina McDonald
at 7:16 PM
2 Greatly Apprecated Comments!

Thursday, June 18, 2009
Hey gals!! I have a call to tell you about!!! I'm one of the team coordinators and would love to see you apply!!! Here's the info!!

Capture These Sketches Sketch Team Call Revised

Capture These Sketches is starting it's first ever Sketch Design Team! Are you up for the challenge?
We are a new blog designed to inspire your creativity using sketches! We Have just started up a brand new website too, so come on by and get to know us!! Want to be part of the Sketch team? Here's what we're looking for...

REQUIREMENTS
*Open to US and Canadian citizens only. (Due to shipping)
*We're looking for people who design sketches, either digitally or by hand! We like both!
*You will be required to design 2 projects per month (cards or LO's) based on the sketch of the week as well as use the sponsor product provided! You will be on a 2 week rotation... one week on, one week off... but you're more than welcome to participate on your weeks off!
*You will be required to design one sketch every 10 weeks. (plus optional opportunities)
*We're looking for fun, creative individuals who enjoy inspiring others!
*We are also looking for consistency, dependability and reliability. No previous Design Team experience necessary.
*Be active on the Lets Capture Our Memories website.
*Occasionally post to the Sketches blog. (On a rotation)
*We ask that you have your own blog on which you can link CYS... if you don't have one yet, now's a great time to start!!

TO SUBMIT
*Drop over to the blog and see the sketch that has been created just for you! Create a LO using this sketch. www.capturethesesketches.blogspot.com
*Come on by www.letscaptureourmemories.com and let us get to know you!

Now please email the following... (Keep all files under 500kb)
* 1 sketch created just for us!
* 1 LO created using the sketch posted on the blog
* Your favorite LO of the moment.
Contact info
Link to your blog

Send to rntmunn@nb.sympatico.ca with Sketch Team Application as your subject.

We will be choosing 6 team members.
Deadline for applications is June 22th.

If you have any questions, just ask them in the comments section of the blog!! We'll be sure to answer them as soon as possible!

Team will be announced no later than June 29, with the first team starting July 1. This first term will run for 4 months... July-Oct.
Can't wait to meet you all and see what you have in store for us!! We have some fabulous sponsor goodies waiting for YOU!

The Capture These Sketches Team

www.letscaptureourmemories.com
www.capturethesesketches.blogspot.com
email: capturethesesketches@live.com
Posted by

Tina McDonald
at 9:47 AM
0 Greatly Apprecated Comments!